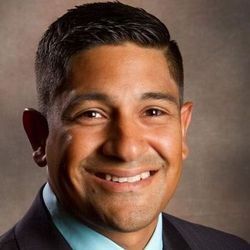 Rico Zavala, NJJA Board President / Director of Development / CEDARS
---
I started my professional career at CEDARS upon graduation from UNL in 2004.  My first position was as a direct care staff member working with kids who were coming back to Lincoln from the YRTC's and I have served in several capacities at CEDARS, most recently working for the CEDARS Home for Children Foundation.
I joined the NJJA Board six years ago as an opportunity to work closely with so many professionals whom I respected and admired.  The passion each board member has for kids is unmatched. I have an opportunity to create forums for system professionals to take advantage of experts in the field.  Education is one of NJJA's focal points and I feel extremely lucky to play a small part in that.
 My wife and I have 3 kids who attend Norris.  Angie is a Nurse Practitioner working at a primary care practice in Lincoln.  When I'm not raising money for the kids at CEDARS, I enjoying spending time with my family and golfing with my friends.